Congress
- EFORT's 7th Webinar "Patellofemoral Instability in Children" to be broadcast live on Monday 31 May 2019 from 19:00-20:00hrs CET. Webinar information and free of charge registration is available here: http://efortnet.conference2web.com/webinars. More info can be found here: https://www.efort.org/education-and-courses/elearning. Program can be downloaded from [ here ].
- Next International Symposium Institut de la Main which will be held in Paris on 12th - 13th April 2019. Scientific program is available here.
- "Microsurgical Summit" of the leaders of the Institutes of Microsurgery of Australia, the USA, Russia will take place from September 27-28, 2019, within the framework of celebrating the 25th anniversary of the Institute of Microsurgery (Russia). The main topic for discussion is "The present and future of reconstructive microsurgery". Within the framework of the Summit, Congress about reconstructive microsurgery will be held, organized by the World Society of Reconstructive Microsurgery, the European Federation of Reconstructive Microsurgery and the Russian Society for Reconstructive Microsurgery.
For more information visit the microsurgeryinstitute.com.
- The 5th edition of the International Advanced Orthopaedic Congress (IAOC) will be held on 15 - 17 November 2018 in Dubai, UAE.
IAOC is the only event in the region that has been exclusively dedicated to addressing various aspects of pathologies in hand, wrist, forearm and upper limb. The event has been established to create a platform where Orthopaedic Specialists and Surgeons in the region to discuss their complicated cases and share evidence based treatment experience, ensuring better outcomes for their patients.
Last year's IAOC was attended by more than 240 international delegates from 18+ countries, representing over 115 organisations and was also allocated more than 40 CME credit hours.
This year, the congress will see a series of presentations and case discussions session led by world renowned orthopaedic surgeons and a series of cadaveric workshops and instructional courses. The congress also has a track exclusively dedicated to physio, occupational and hand therapists.
For more information visit the www.aocongress.com
- The 2nd International Symposium for Molecular Medicine will take place June 08 - 09, 2018 in Düsseldorf, Germany.
Please refer to the congress website http://momi.de/symposium/ for more detailed information.
Program information can be found here: http://momi.de/symposium/scientific-program/
- The Diploma of the Hellenic Spine Society (equivalent to the Eurospine Diploma) is going to be held on 6th – 7th May 2018 at Athens Medical Group Amfitheater Kefalari Square on Athens.
For more information visit the http://www.dhss.gr/.
For online registration please click here.
- We are pleased to announce EFORT's 2nd Webinar is taking place on 7 November on the VuMedi platform entitled : 'Treatment Options Of Unicondylar Knee Osteoarthritis In The Young adult'.
This Webinar will be broadcast from the VuMedi platform on 7 November from 19:00-21:00hrs CET.
Join the Webinar by clicking here.
Please click here to download program in PFD form.
- The course on facial palsy will be held in Vienna from 6-8 September 2017. For more information please click the following link www.facialpalsy.eu
- The 33d Microsurgery Seminar and 7th Seminar of Peripheral Nerve and Brachial Plexus Injuries, with international participation, will be held at the Orthopaedic Research and Education Center «Panayotis N. Soucacos», at the "Attikon" University Hospital, in Athens, on Wednesday, June 7 to Saturday, June 10, 2017.
Please click the links below to download program in PFD form: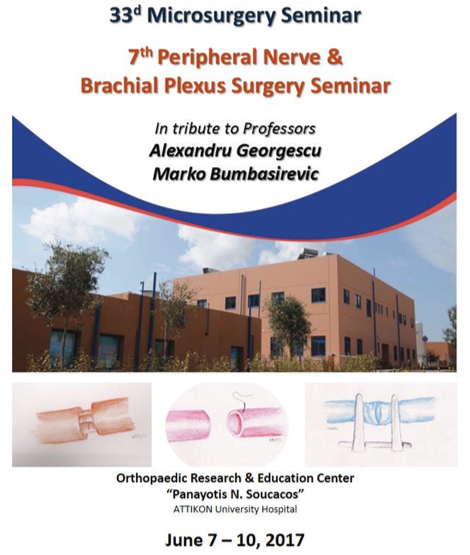 - SOTA is official partner of the First Eurasian Orthopedic Forum. It will take place in Moscow, Russia, from 29-30 June 2017. For more information visit the forum page.
- EFORT Anatomical Course will take place from 23-25 January 2017 in Paris, France. For more information and online registration visit the course page.
- The 19th EFORT Congress will take place in Barcelona, Spain from 30 May – 01 June 2018. More info...
- The first ORTHOPAEDIC CONVENTION FOR EASTERN EUROPE organized jointly by EFORT and PTOiTr, the Polish Society of Orthopaedics and Traumatology will take place in Poznan, Poland from 3 to 5 November 2016.
Click on the links below to download:
- A discount for SOTA members can be obtained, if three or more are willing to register to the course. The amount of the discount are 200 euros for the following sessions:
Transforaminal lumbar endoscopic discectomy (1.200€ - 200€ = 1.000€)
Miss fusion (TLIF) (1.200€ - 200€ = 1.000€)
- Efort Forum, jointly organized by SOTA (Serbian Orthopaedics and Traumatology Association) and EFORT (European Federation of National Societies of Orthopaedics and Traumatology), will be held in hotel Crowne Plaza, Belgrade on 14th of October from 10AM to 12AM.
Participation is open for all participants who paid registration fee for SOTA congress. Number of participants is limited for up to 500 people. Program can be downloaded by clicking here.
- 37th SICOT Orthopaedic World Congress, Rome, Italy, 8-10 September 2016
Congress Secretariat: SICOT aisbl, Rue de la Loi 26 - b.13, 1040 Brussels, Belgium
Tel.: +32 2 648 6823, E-mail: congress@sicot.org, Website: www.sicot.org/rome
Congress registration is open online at www.sicot.org/rome-registration.
- 38th SICOT Orthopaedic World Congress, Cape Town, South Africa, 30 November-2 December 2017
Congress Secretariat: SICOT aisbl, Rue de la Loi 26 - b.13, 1040 Brussels, Belgium
Tel.: +32 2 648 6823, E-mail: congress@sicot.org, Website: www.sicot.org/cape-town
- 15th EFORT Congress London June 04-06, 2014 More info

- Barcelona Hip Meeting November 03-05, 2014 More info
- XXVI SICOT Triennial World Congress Rio de Janeiro November, 19-22, 2014 More info